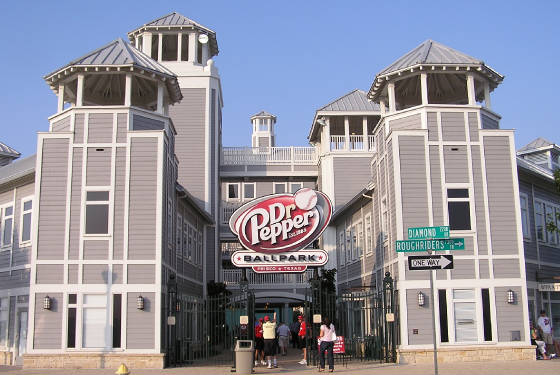 TEAM ::: FRISCO ROUGH RIDERS
LOCATION ::: FRISCO, TEXAS
MY FIRST VISIT ::: AUGUST 26, 2008
OPPONENT ::: CORPUS CHRISTI HOOKS
LEVEL ::: TEXAS LEAGUE 'AA'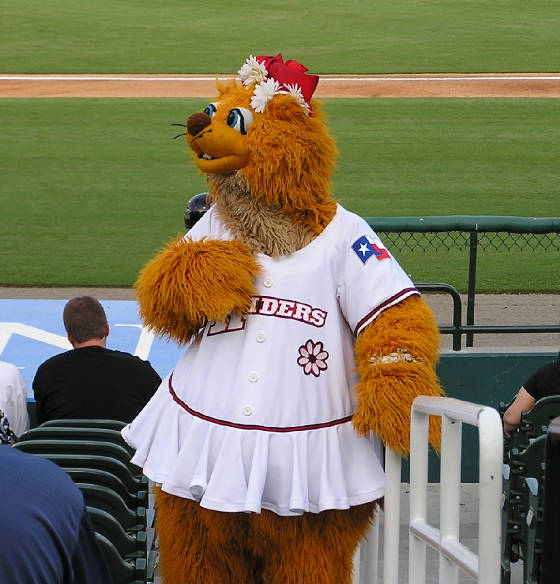 RATINGS
BALLFIELD ::: A+
SCOREBOARD ::: B-
FOOD ::: B
FACILITIES ::: B
MASCOT ::: A
MY TAKE ON THE PARK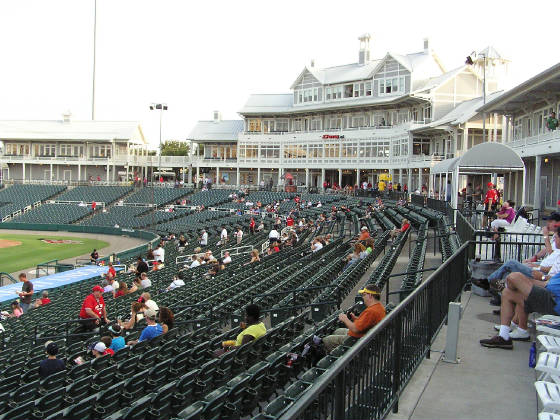 As I sat in this great Texas league ballpark all I could think of is "What a place!"
They did not use the standard mold of what a 2000 era ballpark should look like and also took some chances. Did they all work? maybe not but Dr. Pepper Ballpark is definitely an original and a refreshing change. Add to that the Frisco RoughRiders know what they are doing and make the total ballpark experience perfect for all fans.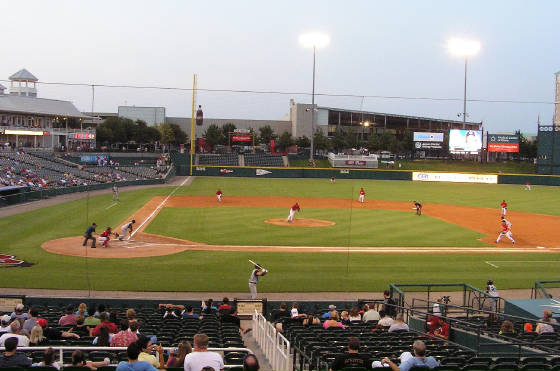 I will start with one of the few concerns I had about the place, parking. There seems to be ample parking for all but the spaces around the entrance to the park are reserved for "regulars" so the rest of us need to find a spot. Located across the street from the outfield are hotels and a mall. The Mall provides free parking but I did not see ballpark parking signs, if you've ever parked in a shopping center and not gone into the stores generally you know what happens, the car is towed. Fortunately the car was there at the end of the night putting Dr. Pepper Ballpark right to the top of my list of ballparks.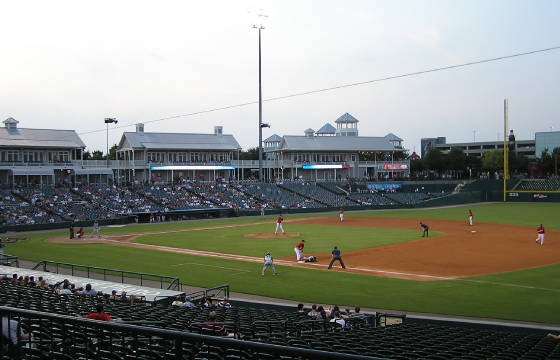 Walking into the park is a wonderful experience, there are RoughRider staff at the entrance to greet you and direct you to where eve you need to go. Customer Service is stressed here in Frisco. A huge dark green seating bowl surrounds a lush green field, quite a shock to me considering the Texas heat. This field is definitely major league quality.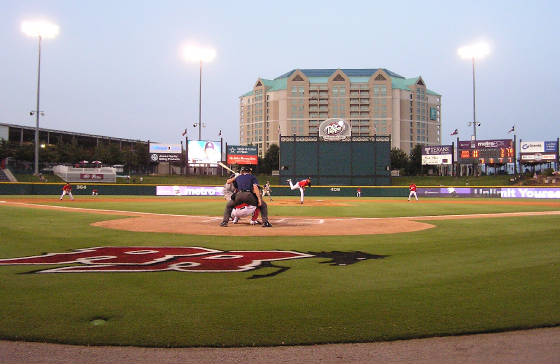 The backdrop to this field, either way, is something to see. Standing at home plate looking out beyond Center Field stands an Embassy Suites, that looks ok. Standing at any point in this park and looking behind home plate, well, that Wild West structure looks fantastic. Words cannot describe just how great this looks. As much as the parent Rangers have going on in the outfield, Frisco has behind the Home Plate seating section.
At night the way the lights hit it just give it that much extra appeal.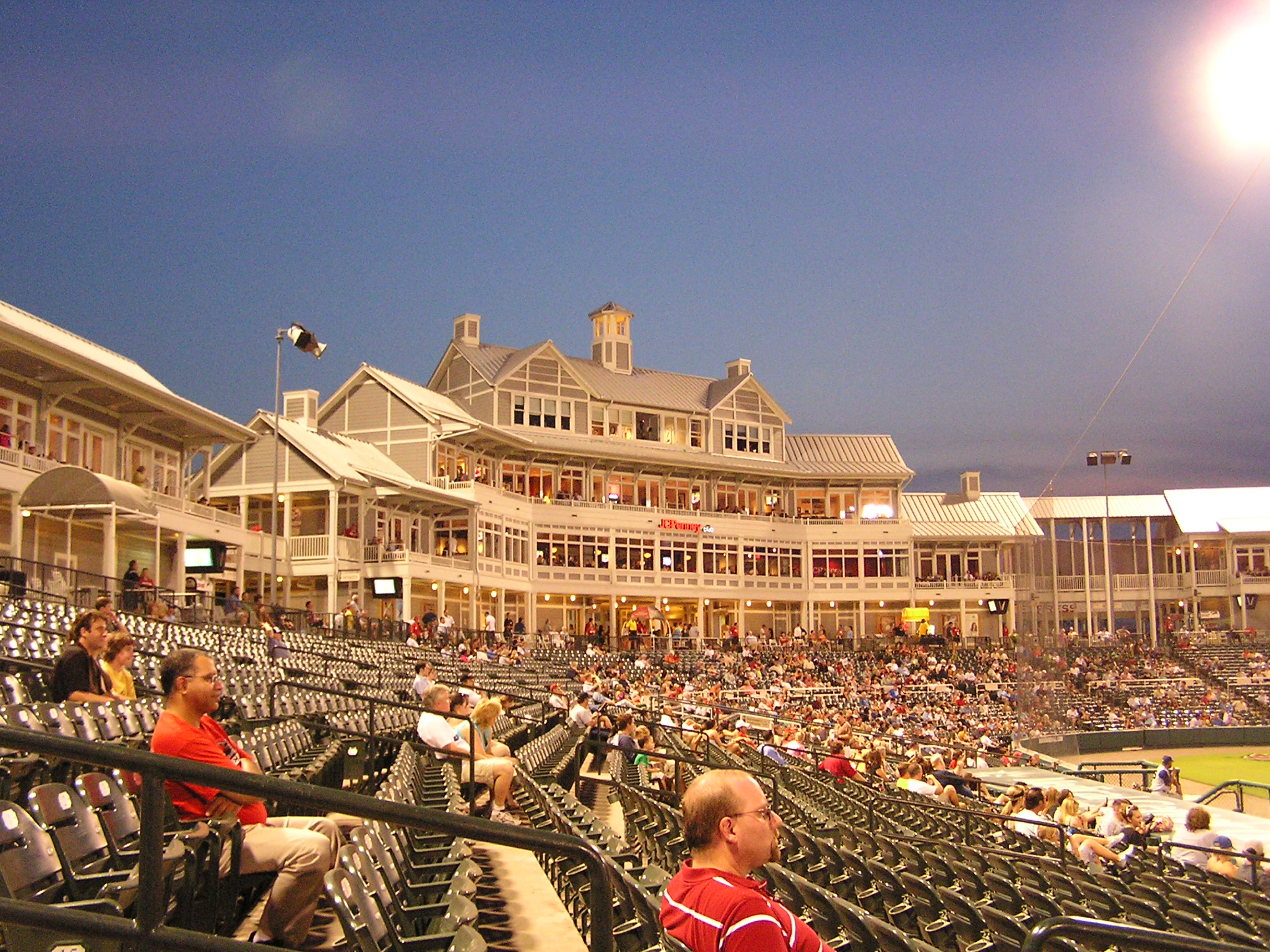 For all the glamour of this park they must not handle the game well. I was wrong there too. So much attention is paid to the game here you never forget why you came out in the first place. The Scoreboard is very quick and if there was a complaint, maybe they could have used the video board a little more.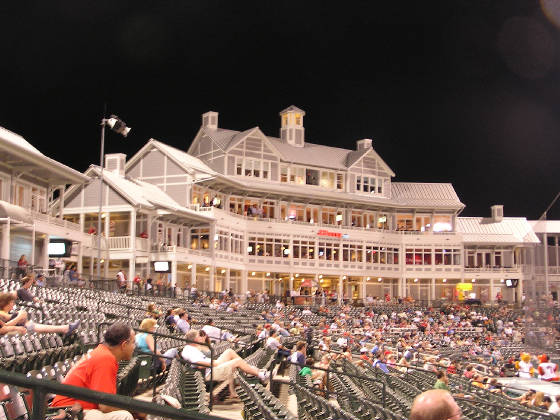 Where they may have went a little far with ideas but they took a chance, the bullpens are in the seating bowl, not on the field. It is a nice touch in theory but I think you could have gotten more seats in. And judging by attendance and not by my pictures, they could use more seats. In many ways, the fact the ticket prices here are some of the highest I've seen, this park could be considered what some would call a Gold Mine.
Bullpens in the stands, attention to detail, and an amazing backdrop. All await you on a trip to see the RoughRiders. The gift shop in left field is quite large, the only soft drinks served here are RC & Dr. Pepper, and along with Shiner Beer this is the first park I've ever been to where hard liquor was served in the stands.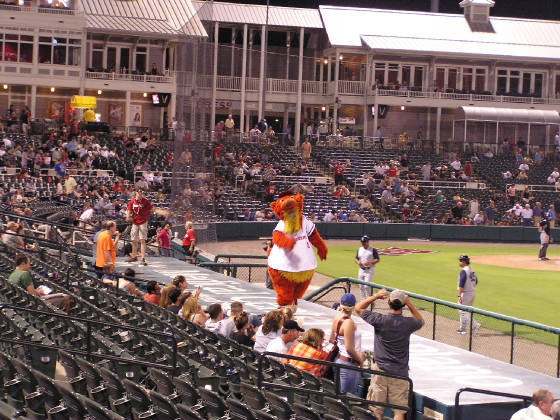 On a list of ballparks to travel to I have to say that even with the higher ticket prices and the 5 minute walk from the car to the game, this place is definitely worth a spot on the top of the list.

If coming to Texas however, be aware of the tolls on the Expressways, I love the manned lanes where you hand the toll attendant a $1 and they toss the coins into the bucket.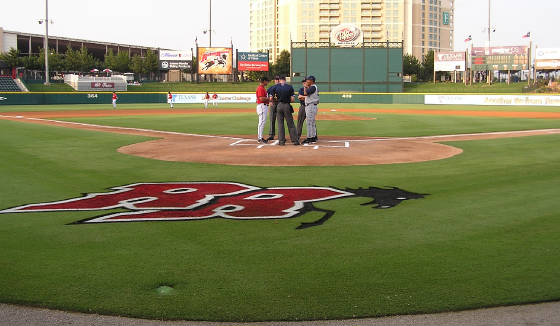 THE LINE UPS
Corpus Christi Hooks Manager :::
55 Luis Pujols
Frisco Rough Riders Manager :::
44 Scott Little
CORPUS CHRISTI HOOKS
7 Drew Sutton 2b
4 Johnny Ash 3b
9 Eli Iore rf
24 Ole Sheldon 1b
32 Brian Boguesvk cf
10 Mitch Einertson dh
13 Billy Hart lf
8 Lou Santangelo c
20 Wladimor Sutil ss
11 Casey Hudspeth p / WP
16 Christopher Blazek S
FRISCO ROUGH RIDERS
5 Julio Borbon cf
17 Elvis Andrus ss
2 Jose Vallejo 2b
4 Dustin Majewski rf
27 Chad Tracy dh
9 JohnnyWhittleman 3b
24 Steve Murphy lf
3 Emerson Frostad c
20 Thomas Berkery 1b
35 Michael Schlact p / LP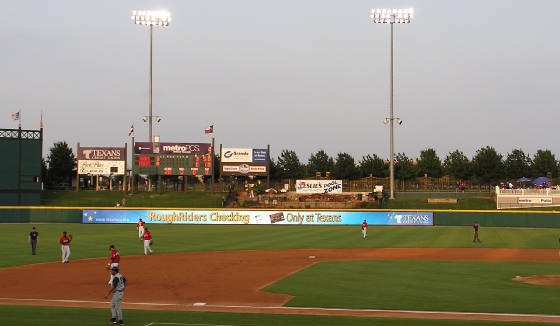 HOOKS 300 003 000 6 12 0
RIDERS 000 022 100 5 10 2
TIME ::: 2:56
ATTENDANCE ::: 5,126
WEATHER ::: 91 BREEZY CLEAR
SEND ME AN E-MAIL

LINKS
The Official site of the Frisco Roughriders
Frisco weather from WEATHER.com
Page last updated :::

© 2000-2012 UNCLE BOB'S BALLPARKS
I AM IN NO WAY AFFILIATED WITH ANY OF THE TEAMS ON THIS PAGE ... THIS PAGE IS MEANT FOR INFORMATION PURPOSES ONLY.